Creating Better Teams
With Matchmaking Technology



Team formation is crucial for effective teamwork. If students form their own teams, they typically end up working with their friends, This leads to to highly homogenous teams (all the international students, all girls-teams, etc), uneven distribution of teams (very strong vs very weak teams), limited intergroup networking and a frustrating experience for less integrated students. This impacts negatively on academic performance and development of interpersonal skills.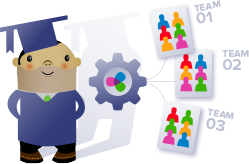 Finally a scientific method for creating balanced teams!
Team Builder
Team-Match is an online team builder that allows tutors to match students into balanced teams to increase team performance. Team-Match fuses insights from occupational psychology with the capabilities of high-end datamining and matchmaking technology. Team-Match teams are fairer and more inclusive, they show improved team learning and higher academic performance.
Team-Match allows tutors to sort students into balanced teams based on their cognitive styles.
Team-Match teams are fairer and more inclusive.
Team-Match teams improve team-learning and academic performance.
Matched teams automatically receive a Team Report.
Straightforward and easy-to-use.